Are you aware of Gynecomastia? If not we would like to make you aware of the same. Gynecomastia is swelling of breast tissues in boys or in men. It is caused by an imbalance of the hormones estrogen and testosterone. Though it may not be considered a very serious medical problem, but it is a condition which may be tough to cope up with. Boys and men who have this condition may sometimes have pain in their breasts. They may also feel embarrassed. At Cosmetic Therapy we offer effective surgical solutions to treat the problem.
Get to know about Gynecomastia: Symptoms and causes
In case a man or boy has swollen breast tissue or breast tenderness then it may be a sign or symptom of Gynecomastia. In case you have a similar condition then you must see the doctor in case of swelling, pain tenderness or nipple discharge in one or both breasts. 
Gynecomastia is mainly caused due to a decrease in the amount of the hormone testosterone compared with estrogen. The cause of this decrease can be conditions that block the effects of or reduce testosterone or a condition that increases your estrogen level. Many things can upset the hormone balance. These could be natural hormonal changes Testosterone is a hormone which controls the male traits. On the other hand estrogen controls female traits. Some men may also produce estrogen in small amounts generally. But if the production of this hormone reaches high levels to balance out the testosterone levels then it causes gynecomastia.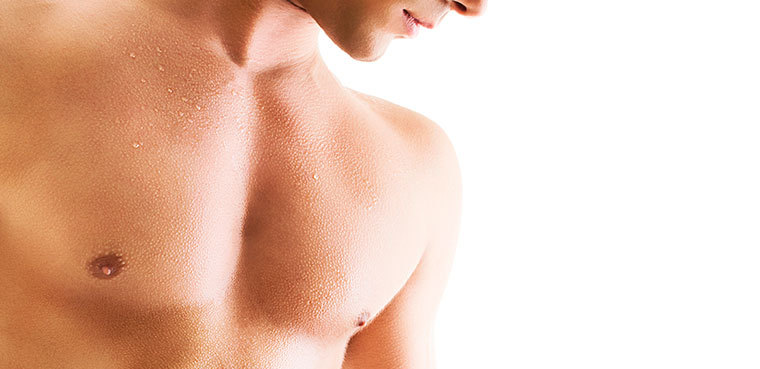 Treatment of Gynecomastia  
Medical treatments
Certain medications may be used for the treatment of breast cancer and other conditions, like tamoxifen (Soltamox), raloxifene (Evista) and aromatase inhibitors (Arimidex), might prove to be helpful for some men with gynecomastia. However, the effectiveness of such medicines may not be full proof. Although these medications have been approved by the Food and Drug Administration, they are yet to be approved specifically for this use. It has also been seen that generally medication is helpful only in the initial stages of treatment. But after prolonged use, the medication might not be as effective. Thereafter surgery is the only other option left thereafter.
Surgery to treat Gynecomastia
In case of severe gynecomastia surgery may be the only option. Male breast reduction surgery involves decrements of breast size by excision of excessive breast tissue along with liposuction procedure. We have already pointed out; medication might be ineffective to cure gynaecomastia. This surgery imparts normal male chest contour without breast prominence.
Though surgeries might be the best solution to treat gynecomastia, but you must get it done from a renowned cosmetic surgeon for the surgical procedure. Dr. Jayanta Kumar Saha is one such eminent cosmetic surgeon who is an expert in the field. So in case you want to treat gynecomastia you must get in touch with Cosmetic Therapy.
Related Post